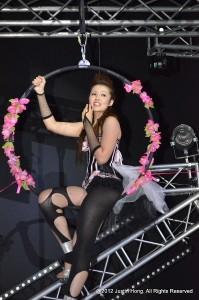 For the 6th successful and consecutive year running, 'Pole Stars' the popular online social network for aspiring pole dancers, showcased the best at the Malaysia Pole Championship hosted in the city's latest entertainment establishment, Stage @ Avenue K, Kuala Lumpur.
Endorsed by the Aerial Arts Association and International Pole Dance Fitness Association, both males and females competed at the event for one of the many prizes including the once in a lifetime chance to represent Malaysia in the semi finals of the International Pole Dance Fitness Championships.
Previously at the International Pole Championship 2012 in Hong Kong Academy of Performance Arts, the Ultimate Malaysian representative- Mr. Adam Tan, beat 6 national champions and international finalists from Australia, Europe and America to bring home the Fit Pole Champion title.
For the Malaysia Pole Championship, 14 contestants competed in 3 major categories: Amateur, Doubles and Professional.  Budding Pole Stars performed a 3-4 minute routine in front of a star-studded panel of judges celebrated in the events and entertainment industry.  Malaysian Cover Girl/Actress and Singer Soo Wincci  delighted the audience with a sensational performance alongside local musicians and dancers.
The mind blowing performances by the individuals as well as the doubles were a marked improvement as compared to last year's championship. The tremendous upper body strength, a well choreographed performance, the intensity of each move, the motivation and innovation of every participants, from the music selection to the graceful and gravity defying movements, puts the audience in awe.
The winners of the Ultimate Pole Star 2012 which goes to Nicholas, will stand a good chance going to the finals and even winning the International Pole Dance Fitness Champion Title.
The winners of other categories are:
Double Award: Emily & Jojo.
Amateur Pole Fit Award: Samantha Chan.
Amateur Pole Art Award: Emily Ong.
Most Popular Award: Jean Teo.
and Best Costume Award: Angel & Samantha.